The COVID-19 pandemic accelerated the growth of online shopping, but it didn't create the broad secular shift in the estimated $5 trillion retail market that some predicted it would. What it did was force online and physical retailers to offer a more varied shopping experience.
But one thing is clear: today's consumers want options. Some want the convenience of shopping online with rapid fulfillment by going to the store for curbside pickup, for example. Others prefer a traditional, brick-and-mortar shopping trip but expect fast shipping when their desired items or sizes are not in stock.
Speed of service is the common denominator for retailers to meet consumer demand, and it is forcing everyone to explore new opportunities in last-mile logistics.
Delivering in the Last Mile
How quickly will my order arrive? This seems to be the most frequent question from shoppers. According to a PricewaterhouseCoopers survey, 41% of consumers will pay additional fees for same-day delivery, and a SOTI survey found that 45% of U.S. respondents will shop elsewhere if a delivery or pickup takes longer than two days. More telling is that 84% of consumers won't buy from a retailer again if they have just one bad delivery experience.
Excelling in the last mile has become essential for retailers to retain business, but this is easier said than done.
Large volume, inbound shipments can be sent in bulk to stores and distribution centers. Outbound, last-mile shipments are typically much smaller and have multiple-stop routes to rural, suburban and urban addresses. This adds time, complexity and cost to last-mile deliveries and is why they account for 53% of total shipping expenses for retailers.
Store-Based Fulfillment
Retailers can reduce last-mile delivery expenses by using physical stores to fulfill online orders. The savings come primarily from shipping out of locations that are closer to customers than out-of-town warehouses or distribution centers.
According to a Coresight Research report, store-based fulfillment saves 8-10% of total last-mile delivery costs for 28.6% of retailers, and more than 31% reported savings of between 5 and 8%.
Local Distribution
Retailers that use stores and localized distribution hubs for fulfillment can whittle away shipping costs and increase delivery speed. Localized hubs get products to stores more quickly to replenish fast-moving items and service customers who prefer using a buy online, pick up in store (BOPIS) model.
More Delivery Options
Winning in the last mile is all about giving customers variety. Retailers must offer fast and accurate delivery options that include same-day, next-day or scheduled (an option that allows the consumer to specify when the item will arrive).
By providing these delivery options, retailers can put the decision – and the added service costs – onto the consumer.

Retailers can still retain control by incentivizing the shipping options they prefer. For example, a store might use free standard shipping as its default option.

"Choose Your Day" shipping has proven to be the most popular option. In a Capgemini study, 73% of shoppers report that choosing a convenient day and time slot for delivery is more important than quick delivery.
Many retailers are outsourcing the cornucopia of last-mile delivery options. This lets retailers focus on providing the best online or in-store shopping experience, while the expertise of logistics providers takes care of the customer delivery experience.
Information Sharing
Just as important as meeting consumer expectations for fast delivery is the need for end-to-end visibility of shipment status. Buyers want to know when their purchase ships, when it will arrive and preferably the transit details. Retailers can remove this burden of information by choosing a last-mile logistics provider that can integrate its systems with their existing order fulfillment systems.
The integrations can give consumers visibility of shipping and delivery status for peace of mind and to reset expectations when delays are encountered. Consumers are more likely to understand and accept delays if they are notified as soon as they occur in the fulfillment cycle.
Localized Logistics at Scale
Increasingly, online and physical retailers are using logistics providers that operate locally, at scale, to get closer to customers and reduce operational complexity and cost in the last mile.
Localized logistics can work by servicing a retailer's middle and last mile from a network of local distribution hubs. Fillogic provides tech-enabled hubs, located in the same shopping malls as retailers, and a logistics-as-a-service platform. This unique logistics-as-a-service model ensures fast last-mile delivery and also provides digitally native and store-based retailers a seamless process for curbside delivery, optimized inventory and fast replenishment, along with full shipment visibility.
The bottom-line benefits to retailers are improved service levels, reduced costs, and better utilization of resources.
To understand how the retail ecosystem is changing and how retailers can stay ahead of the curve, download our latest report "Reimagining Retail: Modernizing Supply Chains to Meet Changing Consumer Demands."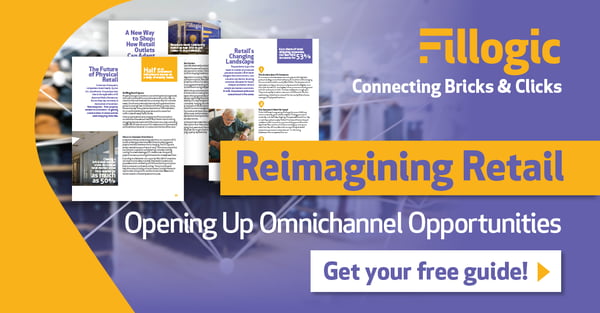 If you're ready to see our proprietary software and services in action, schedule a demo.